Sen. Jones and Asm. Grayson Receive 2023 Civil Justice Gavels
Senator Jones and Assemblymember Grayson Recognized as Champions of Legal Reform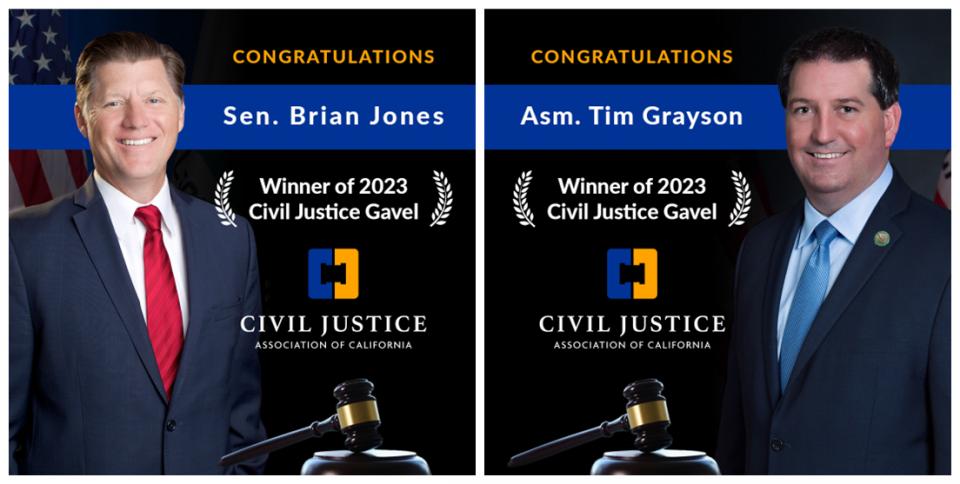 Civil Justice Association of California Announces 2023 Civil Justice Gavel Award Recipients
SACRAMENTO, Calif. (February 22, 2023)—The Civil Justice Association of California (CJAC) is pleased to announce that Senator Brian Jones (R-40) and Assemblymember Tim Grayson (D-15) are this year's Civil Justice Gavel recipients.
Each year, CJAC awards the Civil Justice Gavel to one Democrat and one Republican legislator who display extraordinary leadership in promoting a fair, balanced civil justice system in California.
"We're delighted to recognize the standout, bipartisan efforts of Assemblymember Grayson and Senator Jones to improve California's legal climate," said Kyla Christoffersen Powell, president and CEO of CJAC. "Through their policy leadership, they have helped reduce lawsuit abuses against businesses in their districts and throughout the state."
When considering award recipients, CJAC evaluates legislators' votes on bills that impact California's legal climate and other efforts to promote a balanced civil justice system in California communities. Senator Jones and Assemblymember Grayson have a strong track record in these areas.
"I am grateful to be recognized for taking a stand against excessive litigation that harms California employers in our communities," said Senator Jones. "Our civil justice system needs to be accessible to all, and abuses and clogged courts are a major hinderance."
"I am honored to be awarded for my work in support of reasonable civil justice policies for all Californians," said Assemblymember Grayson. "Justice is not served when restaurants, wineries, and other moms-and-pops and minority-owned businesses in my district and across California are being hit with predatory lawsuits."
# # # #
About CJAC
The Civil Justice Association of California (CJAC) has been a trusted source of expertise on legal reform for almost half a century. CJAC confronts legislation, laws and regulations that create unfair litigation burdens on California businesses, employees and communities.