Sen. Hurtado and Asm. Nguyen Receive 2022 Civil Justice Gavels
March 16, 2022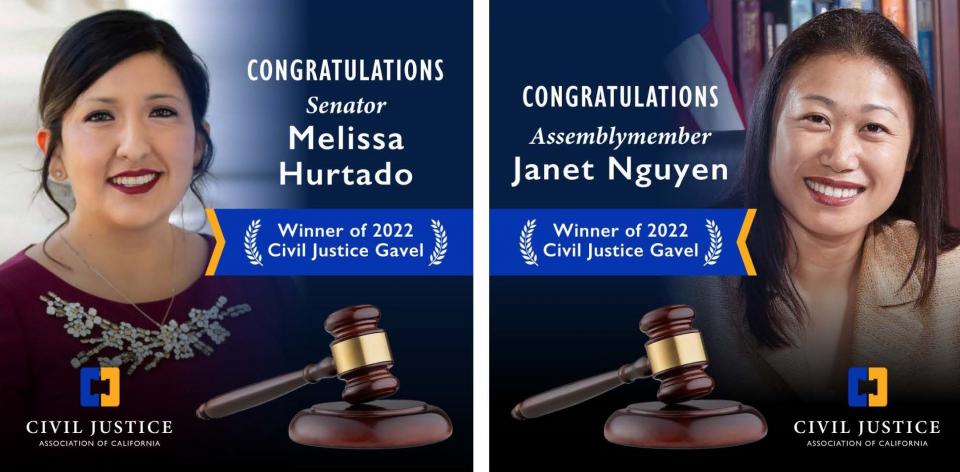 Senator Hurtado and Assemblymember Nguyen Recognized as Champions of Legal Reform
Civil Justice Association of California Announces 2022 "Civil Justice Gavel" Recipients
SACRAMENTO, Calif. (March 16, 2022)— The Civil Justice Association of California (CJAC) is pleased to announce that Senator Melissa Hurtado (D-14) and Assemblymember Janet Nguyen (R-72) are this year's Civil Justice Gavel recipients.
Each year, CJAC awards the Civil Justice Gavel to one Democrat and one Republican legislator who display extraordinary leadership in promoting a fair, balanced civil justice system in California.
"We're delighted to recognize the standout, bipartisan efforts of Senator Hurtado and Assemblymember Nguyen to improve California's legal climate," said Kyla Christoffersen Powell, president and CEO of CJAC. "Through their policy leadership, they have helped minimize frivolous lawsuits against businesses in their districts and throughout the state."
When considering award recipients, CJAC evaluates legislators' votes on bills that impact California's legal climate and other efforts to promote a balanced civil justice system in California communities. Senator Hurtado and Assemblymember Nguyen have a strong track record in these areas.
"It is an honor to be recognized for my efforts to ensure all voices are heard in California's civil justice system," said Senator Hurtado. "It's important to safeguard consumers' access to justice while also protecting farmers, restaurant owners and other businesses in our communities from lawsuit abuse."
"I am honored to receive the Civil Justice Gavel from CJAC for my efforts," said Assemblymember Nguyen. "Many small and minority-owned businesses in my district and across California have been victims of predatory shakedown lawsuits. I've worked hard to fight for reforms to stop these practices."
# # # #
About CJAC
The Civil Justice Association of California (CJAC) has been a trusted source of expertise on legal reform for almost half a century. CJAC confronts legislation, laws and regulations that create unfair litigation burdens on California businesses, employees and communities.