Civil Justice Association of California awards "Civil Justice Gavel" to Senators Chang and Glazer
July 29, 2020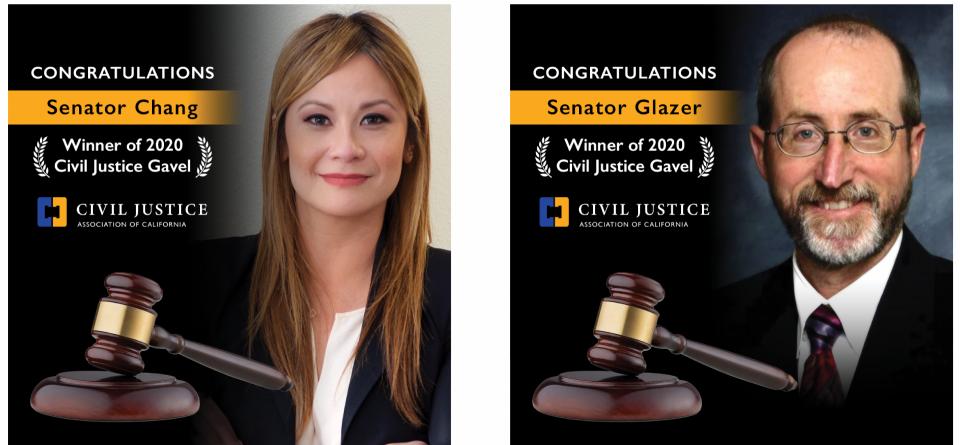 Civil Justice Association of California awards "Civil Justice Gavel" to Senators Chang and Glazer
Senators recognized as legislative champions of legal reform
Sacramento, Calif., July 29, 2020 – The Civil Justice Association of California (CJAC), on behalf of its board and membership, is pleased to present the first annual Civil Justice Gavel Award to Senators Ling Ling Chang (R – Diamond Bar) and Steven Glazer (D – Orinda).
The Civil Justice Gavel is awarded to one Democrat and one Republican legislator who display extraordinary leadership in promoting fairness and balance in California's civil justice system.
"We're delighted to recognize the standout, bipartisan efforts by Senators Chang and Glazer to improve California's legal climate," said Kyla Christoffersen Powell, President and CEO of CJAC. "Over the last year, Senators Chang and Glazer, through their policy leadership, have helped minimize shakedown lawsuits against businesses in their districts and throughout the state."
Factors considered include the legislator's voting record on bills that impact California's legal climate, including opposition to policies that expand harmful private rights of action and excessive litigation, and other leadership on civil justice reform in the Legislature and communities. Senators Chang and Glazer have led in these areas while honorably representing their constituents.
"I'm grateful to be recognized for my work in supporting small businesses and encouraging a healthy legal climate," said Senator Ling Ling Chang. "I'm proud to continue advocating for fair and reasonable legal standards which benefit consumers, employees and small businesses alike."
"It is an honor to be presented with the inaugural Civil Justice Gavel," said Senator Steven Glazer. "I look forward to continuing to work towards a balanced legal climate that provides vital protections for California's consumers while ensuring our small businesses and employers are not unfairly burdened."
###
The Civil Justice Association of California ("CJAC") has been a trusted source of expertise on legal reform for almost half a century. CJAC confronts legislation, laws, and regulations that create unfair litigation burdens on California businesses, employees, and communities.