Civil Justice Association and Industry Leaders Request COVID-19 Emergency Liability Reduction
April 21, 2020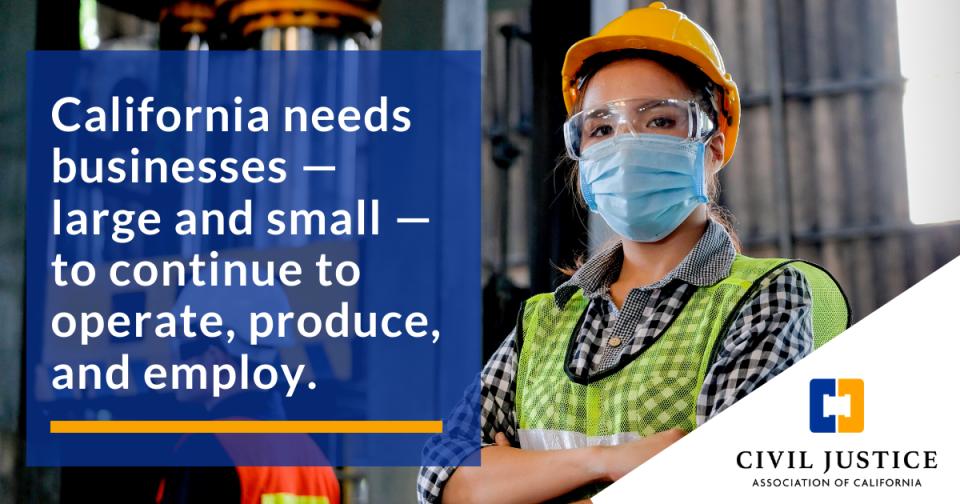 Critical services threatened by litigation amidst supporting efforts
Sacramento, Calif., April 21, 2020 – The Civil Justice Association of California (CJAC) with a coalition of almost four dozen business organizations representing a broad range of California industry sectors have sent a letter to Governor Newsom requesting immediate action to address a mounting threat of litigation against critical businesses and nonprofits working during the COVID-19 pandemic crisis.
California already offers protection from civil liability during times of crisis under the Emergency Services Act, but the protection covers only a narrow category of private entities. The letter urges that this protection should be extended to all industry sectors providing critical goods, services and facilities, due to the unprecedented scale of the COVID-19 state of emergency.
Specifically, the letter requests the Governor's Administration issue an executive order to clarify and expand current immunity provisions to apply to all private entities providing critical services, including those designated by the state as Essential Critical Infrastructure Workers, as well as advance and support urgency legislation as necessary to extend these immunity protections.
"Essential businesses have demonstrated extraordinary efforts in the face of the COVID-19 pandemic, providing vital goods and services to Californians while enduring hardships of their own. These efforts should not be met with class actions and private rights of action that attempt to capitalize on this crisis," said Kyla Christoffersen Powell, President and CEO of CJAC. "During this time of economic uncertainty, California needs businesses – large and small – to continue to operate, produce and employ."
CJAC and coalition commended Governor Newsom's swift and decisive leadership in responding to the crisis and implored him to adopt the letter's recommendations.
The Civil Justice Association of California ("CJAC") has been a trusted source of expertise on legal reform for almost half a century. CJAC confronts legislation, laws, and regulations that create unfair litigation burdens on California businesses, employees, and communities.