California Named the Top 'Judicial Hellhole' in the Nation
The American Tort Reform Association Has Ranked Our State Not-So-Golden 16 years in a row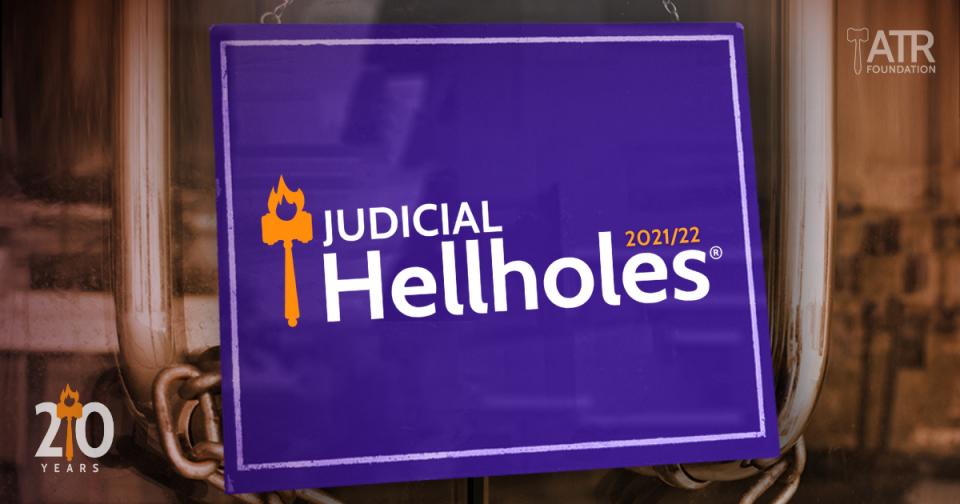 SACRAMENTO, Calif. (December 7, 2021) – California has landed the No. 1 spot on the American Tort Reform Association's (ATRA) list of judicial hellholes, moving up from its No. 3 position last year. This is the 16th year California has been deemed a judicial hellhole.
"With burdensome regulations and a justice system ripe for lawsuit abuse, California is an increasingly hostile place for business owners," said Kyla Christoffersen Powell, president and CEO of the Civil Justice Association of California (CJAC). "But we believe this can change. CJAC won't stop advocating for reasonable reform on behalf of our communities and California businesses of all kinds to create a more fair, balanced civil justice system."
Among the issues contributing to California's hellhole status are shakedown lawsuits against businesses under the Labor Code Private Attorneys' General Act (PAGA), ADA, and Proposition 65. These are lawsuits not brought to carry out the intentions of the law, but instead to generate more fees for lawyers.
"Unfortunately, the California Legislature has been a graveyard for even the narrowest and most reasonable reforms proposed to protect businesses from abusive litigation," Powell said. "For example, earlier this year the Assembly Judiciary Committee refused to even hear a proposal to protect small businesses and nonprofits that comply with government safety protocols from frivolous Covid-19 litigation."
That's why CJAC has submitted ballot measures for the November 2022 ballot, which would take legal reforms directly to the voters. The ballot measures propose to cap attorneys' fees that can be collected from injured consumers at a reasonable 20 percent so consumers keep more of the compensation they deserve, and get it sooner. The current system puts attorneys first, allowing them to collect 40 or 50 percent of their clients' recoveries.
This is ATRA's 20th year of ranking Judicial Hellholes, which are the states deemed to have the most unjust local courts and state civil justice systems in the country. The 2021 report ranks eight Judicial Hellholes.
For more information about the Judicial Hellholes report, visit www.judicialhellholes.org. For more information about CJAC's ballot measures, visit www.cjac.org/ballot.
# # #
The Civil Justice Association of California (CJAC) has been a trusted source of expertise on legal reform for almost half a century. CJAC confronts legislation, laws and regulations that create unfair litigation burdens on California businesses, employees and communities.